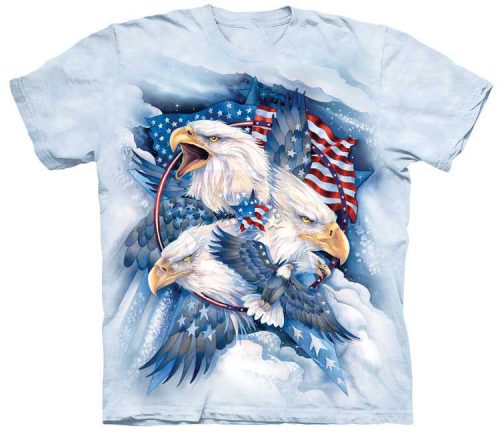 Patriotic Eagles
Description: A five-pointed star with American flag motif is centrally positioned over three large bald eagle heads. A smaller eagle flies just below. The large eagle heads are superimposed over a circle with stars-and-stripes motif, which covers an undetermined number of other eagles. This composite is overlaid onto an image of the United States flag, which is in space or against a cloudy night sky. It is also possible to make out another five-pointed star in the mid-background, which is itself adorned with five-pointed stars.
Number of Eagles: Undetermined, minimum of 6.
Clarity of Messaging: Stalwart and patriotic, if somewhat disorganized. There is a lack of apparent leadership, as each eagle is looking or flying in a different direction. This shirt is as much about stars as it is about eagles.
Overall Rating: ★★★